Courses in WordPress websites and search engine optimisation
I've been building websites since 1999. So, having originally built them from scratch using HTML, I really know the mechanics of a website.
Due to demand, in 2009 I also began to build websites using WordPress - free software that enabled non-web designers to update a website. Suddenly, creating and updating became very attainable.
That's when my adventure began into search engine optimisation.
It quickly became apparent that there were a huge amount of websites being created and updated in ways that were damaging to search engine page rank. I've seen extremely frustrated business owners struggling with search engine tactics.
Neither building a website nor search engine optimisation are particularly difficult. There are just a lot of pieces to the puzzle.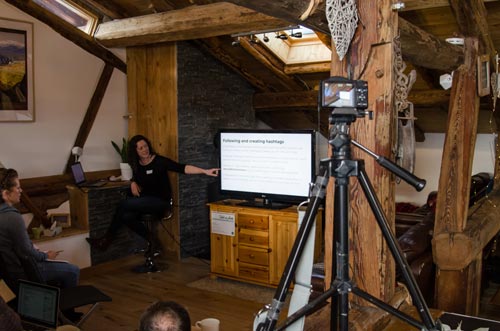 Speaker
I am available to talk at your networking group, conference or business meeting.
If you would like to learn online - sign-up to my newsletter as I offer frequent webinars, online courses and videos so you can learn.
Build and maintain websites using WordPress open source software. Use WordPress search engine tools. Expand into a blog. Drive traffic.
Online or in-person.
Learn how to make your website work harder. How websites, blogs and search engines work together. Use best practices to drive more traffic to your website.
Online or in-person.
SEO course online
Soon to be released.
Starting with search engine basics and moving through to more advanced steps that will help to increase traffic to your website.
Online only.
About my training courses
Throughout my career I've had the pleasure of teaching business owners to use software programmes, update websites, set up and use email, become aquainted with social media and, of course, I've educated many in search engine optimisation.
I have an easy-going character and I'm sure you will relate to me. Why not book an initial talk?
With experience and skill I have the capabilities to help you - I do not blind you with technical jargon. I am patient and will clearly explain tasks, cultivating your knowledge and helping your website grow.
My courses are structured, but I can look at developing a bespoke course for your company - just email me.